PrairieRose Gundogs
Premium Field Bred English Springer Spaniels &
English Cocker Spaniels
Puppies, introduced gundogs, started & finished gundogs
National Champion Bloodlines
As a member of the English Springer Spaniel Field Trial Association, PrairieRose Gundogs is dedicated to the improvement of our hunting and Field Trial Spaniels.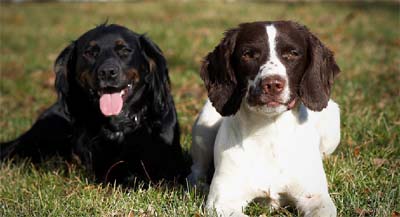 The dogs and puppies you see offered here are the
best of the best, field trial tested, championship spaniel hunting genetics.
We actively participate in spaniel field trials which enables us to select only the best family gundogs for our breeding program. We do this because we believe you want a great PrairieRose gundog companion in your home, as well as a bird finder that has natural hunting ability and is easily trained.
We know folks with great lines and we specialize in connecting you with dogs from the field trialers dedicated to the improvement of our lovable hunting spaniels. Most are avid field trialers or those who breed for field trialers.
If 'you want to be assured of top level breeding for your field bred Springer or English Cocker Spaniels that hunt, are family lovers, and do it well, you found the place you were looking for.
Phone: (507) 722-1504 - Please leave a message.
FC AFC Milan Lynch's Buccleuchs MH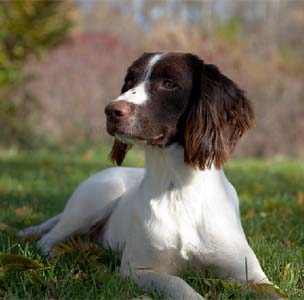 Millie is our English Springer Spaniel who is an Open All-age Field Champion, Amateur Field Champion, and Master Hunter titled at only three years of age.
She flat out hunts, finds and retrieves birds as you would expect from an FC AFC, MH titled champion.
Her Sire is Deepfeet Victor and Dam is Bucchleuchs Favor. Her Grandmother, Edwardiana Tweed is the International Field Trial Champion from Britain, bred with Clarburg Art (google it).
Millie's mother is the full sister to Annickview Breeze, a 2X British National Field Trial Champion. Millie's Father was sired by Field Trial Champion Rytex Ragamuffin Of Deepfleet and Deepfleet Esther
For more information, pedigrees, puppies and dogs availables - you want to click here.
PrairieRose's Litomysl Barlow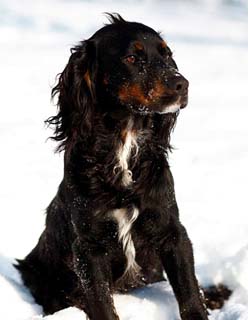 We have an English Cocker Spaniel, Barley, (PrairieRose's Litomysl Barlow) at stud.
His mother, Willowbee Wren is the 2005 British National Field Trial Champion and his father, Timsgarry Barlow is the 2007 British National Field Trial Champion.
Barley is very stylish with a lot of heart and loves everyone. He is very willing to please and his natural hunting abilities are superb.
If you are looking for both a lap dog and an outstanding pheasant dog, a true blueblood English Cocker spaniel out of Barley is right up your alley.
For more information, pedigrees, puppies and dogs availables - you want to click here. or call (507) 722-1504
What we expect from you
If you wish to purchase one of these high quality puppies, introduced youngsters, started spaniels or finished gundogs, and you are or want to be an upland bird hunter, waterfowler or field trialer, you are exactly what we are looking for.
We give preference to those of you who keep your new spaniel in the home and commit to providing stimulating activity for your new PrairieRose gundog.
PrairieRose Gundogs are easygoing family dogs that become very powerful in the field.
If you would like to see pictures and video check us out and like us on facebook: Prairie Rose Gundogs on facebook - Click Here please.