Ph: (507) 722-1504
Leave a message please.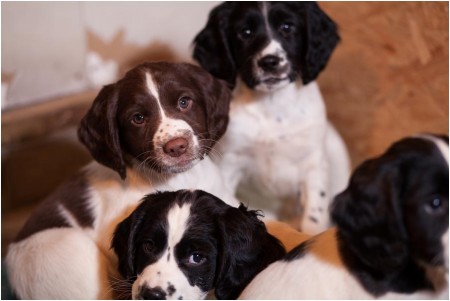 We are a member of the English Springer Spaniel Field Trial Association, dedicated to improving our field bred English Springer Spaniels.
If you would like to purchase one of these high quality puppies, a started spaniel, or a finished ready to hunt gundog, we prefer you to be an upland bird hunter, waterfowler, or field trialer. We give preference to those of you who keep your new spaniel in the house and commit to providing stimulating activity for your new dog.
These dogs are great family dogs and also very powerful in the field.
If you fit the above profile, we almost always have a dog you will be proud to have as your companion, ready to hunt with, either on hand or within our network of high quality field bred spaniel enthusiasts and trainers.
FC AFC Milan Lynch's Buccleuchs MH (Millie)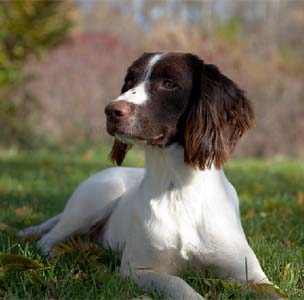 Millie obtained her titles as an Open All-age Field Trial Champion (FC) and Amateur All-age Field Trial Champion (AFC) at three years of age. She was Master Hunter (MH) titled at two years of age. She passed her first Master Hunter test at 1 year of age.
She qualified for National Championships both Open and Amateur every year since she started running field trials. At three years of age, she earned a Certificate of Merit at the English Springer Spaniel National Amateur Championships. In the field she is aggressive, hunts fast, finds and retrieves birds as you would expect from an FC AFC titled Champion.
Her Sire is Deepfeet Victor (Black & White) and her Dam is Bucchleuchs Favor.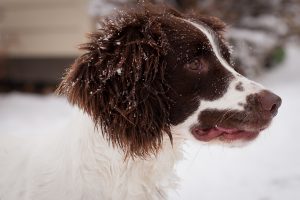 Her Grandmother, International Field Trial Champion Edwardiana Tweed, was bred with Clarburgh Art (google it) and her Dam is the full sister to Annickview Breeze, a 2X British National Field Trial Champion. Millie's Father was sired by Field Trial Champion Rytex Ragamuffin Of Deepfleet and Deepfleet Esther. Rytex Rod, Kenine Rob, Sunnybrae Siskin, Roughburn Lark and Toonarmy Torrent are also prominent in her bloodlines.
FC AFC Milan Lynch's Buccleuchs's MH Pedigree – Click Here
Ella x Zeus puppies born December 6, 2016. 2 liver/white males, 1 black/white male,  3 liver/white females and 2 black/white females. Only one male and one female is left as of December 16th. If you're interested, contact us today! Call (507) 722-1504

PrairieRose's Wind Riding Donella (Ella)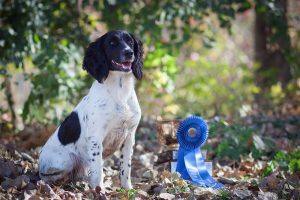 Ella an energetic black and white female. She is a fast, hard driving flusher with one of the best noses I've ever seen and she trained easily. Her mother is FC AFC Milan Lynch's Buccleuch and her father is FC AFC Paragon's Bratach Bhan Macaoidh.
Frankly, she is one of the best Field Bred English Springer Spaniels I've seen anywhere. And I'm biased.
Her field trialing has been limited to date and she has done extremely well in the few she has been in. In the house, she is a calm and loving dog. She weighs 37 lbs.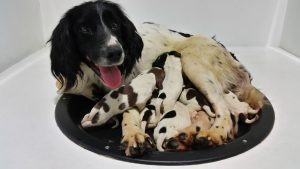 Between Ella's pedigree and her prowess in the field, she'll certainly have a bright future. She is a loved inside member of her household and hunting companion that is equally at home with her family, on the prairie, and in the water.
View PrairieRose's WindRiding Donella (Ella) Pedigree – Click here.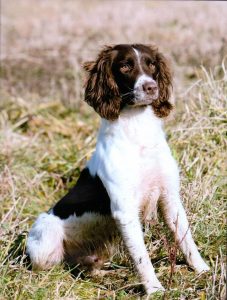 Zeus – AFC Kantagrees Master of Lightning grandsire is two time National Champion Beggarbush Clipper. He is a well oiled hunting machine with over 100 field trial points, 11 field trial wins and a several National CMs. He is a smooth bird finder with a nice nose and flush. Not only is he a top field trial dog, he's a wonderful house dog.
Puppies out of the Ella x Zeus breeding should be outstanding field trial prospects. Whether you're looking for a bird finder or rabbit dog, this breeding will exceed your expectations.
Check out Zeus's Pedigree yourself – click here please.
Please call (507) 722-1504 if you are interested in having one of the Ella x Zeus puppies, due December 6th, 2016. A deposit of $500 holds your puppy. This is a great chance to 'get your hands on a puppy from Ella x Zeus' before Ella becomes too well known. PrairieRose puppies already out there are highly valued by current field trialers. They also make fine hunting dogs.
PrairieRose's Litomysl Bakinaw (Kina) X Quin page.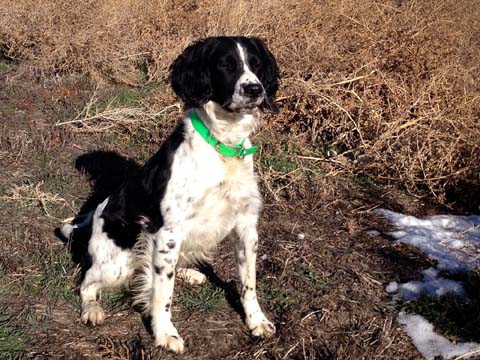 FC Paragon's Bratach Bhan Macaoidh of Hellfire (Macks) became a Field Champion (FC) in September of 2015. He is a powerful, flashy bird finder with an explosive flush, and watching him in the field is truly a sight to see. If you're lucky enough to get your hands on one of these puppies watch out, you just may have dynamite on your hands.
Macks has 2xNFC NAFC CNFC FC AFC CFC SAIGHTON'S SCUD, NFC NAFC FC AFC SAIGHTON'S SCOUT, & CNFC CFC BLACK POWDER in the 5th generation of his pedigree.
In the 1st four generations he has NAFC FC AFC WINTER WIND'S WHITE NIGHT, CNFC CFC CEE GEM'S CHAMPAGNE, NFC FC AFC THE ICEMAN, NFC FC AFC SUNRISE ZINGER, NFC FC AFC KB'S SIR COACH, ENFC EFC CORTMAN GARRY and too many AFC & FC titles to name off.
Check out Macks Pedigree yourself – click here please.
Here is a video of Millie's 3 week old puppies (Millie x Macks) born June 14th – Click Video to Watch.

Below is a video of one of the puppies (Sunny), seen in the video above, at 9 months of age.
(She is in the upper right at beginning of video above).

Here is a video of Millie's previous litter of puppies (Millie x Macks) – Click HERE to Watch.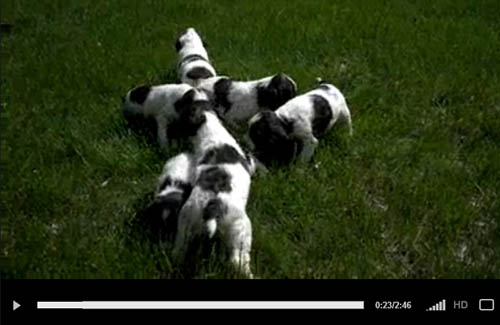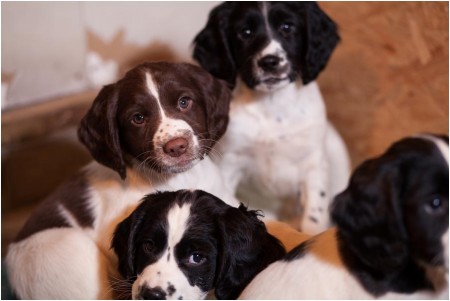 Ella and Zeus are out of the 1st Millie x Macks breeding and they are looking fantastic with Ella having taken 1st place in her 1st puppy stake in the spring of 2015 at 13 months of age and a 3rd in an all-age field trial. Zeus is a joy to field trial. He has a 1st place along with 2 fourths in all age stakes. They are only 3 years old in 2017. Several puppies from this litter are in well known Field Trialers and Pros hands and they are raving about them.
One is with an agility handler and his owner, Amy says:
"By far and away the fastest to mature male we've ever had. His desire to work is matched only by his desire to please. Every one of our instructors for agility have gushed about what a nice dog he is. They love his focus & drive. He has what I was looking for in a pup. He doesn't get rattled. He's just amazing."
Another owner of a Millie X Macks puppy, Paul, out of Appledoorn's Resort, says:
"In my heart of hearts there is not a better springer spaniel than Dazzie. He has done everything that I have ever asked of him and more. He is tenacious, fearless, and has no quit in him. Yet is gentle with kids and very social. He has never even uttered a growl."
The professional dog trainer who also owns a Millie x Macks puppy he simply says:
"Lyric is scary good."
Millie was bred to Rey and had her puppies on April 26th, 2013.
Harvest Moon's Rey Pedigree – Click Here
Rey is a strong flushing dog with a superb nose. He is a hard charging liver and white male.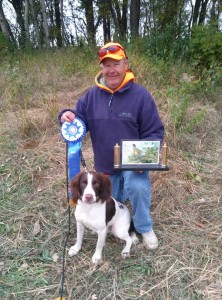 Taz, out of Millies 2nd litter (Millie x Rey), won the 2014 Midwest high point puppy award.
Congrats to Taz (PrairieRose's Litomysl Bisipisidoosh – Litomysl sounds like Little Missile) (In video above) who won the Midwest High Point Puppy Award, took 1st place in 4 puppy stakes and took 2nd in two more. He will be running in his 1st Open Field Trial at a year and 7 months of age. We sold him to Mark Victor after we trained and steadied him just before the puppy trials. Pictured right.
Millie was bred to Raigain and had her puppies on May 7, 2011.
FC Paragons Raigain Macaoidh Pedigree – Click Here
Raigan is an Open All-age Field Trial Champion. He is a large, graceful black and white male.
Millie had 2 B/W Females, Two B/W Males and a L/W Male.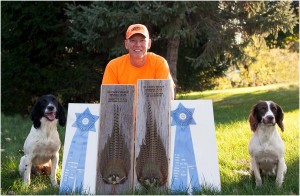 These puppies, Born May 7th 2010, are gone to good homes and doing well. Keep an eye out on the Field Trial road for Hero who is doing very well.
Mick, out of this litter, placed 1st in the Amateur the same day his mother placed 1st in the open at 2 years of age. Pictured left……
He has also placed again in the Amateur as well as the Open before turning 3.
If you want more PrairieRose on facebook for current videos & pics – click here please.
Zeus – PrairieRose's Litomysl Taranis @stud
Here is a video of Zeus out working pheasants under tough July, green grass conditions (scenting is very tough). Please WATCH FULL SCREEN.