Please call (507) 722-1504 if you are interested in one of the puppies, born November 26th, 2016. A deposit of $500 holds your puppy. This is a great opportunity to get your hands on a Kina x Quincy puppy! 1 boy left as of 12/28/2016.
PrairieRose's Litomysl Bakinaw (Kina)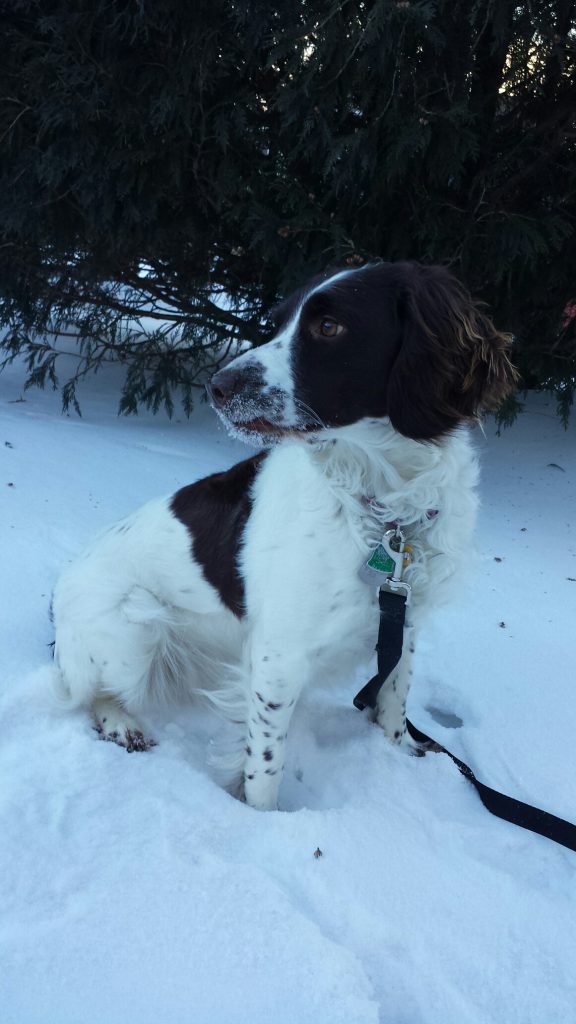 Kina is a larger animated liver and white female. She is stylish and sharp, a great bird finder, and she trained easily. Her mother is FC AFC Milan Lynch's Buccleuch and her father is Harvest Moon's Rey.
She lives in Southern Minnesota and is a prairie hunting companion. She loves tracking and flushing pheasants. Chasing rabbits is another of her specialties.
Kina has a rich pedigree with all the genetics a hunter or field trialer needs. She is a loved member of her household and outdoor companion that is equally at home with her family, in the woods, prairie, and field.
If you're lucky enough to net of one of her puppies, hold on for an exciting time with a new puppy, amiable companion, and hunting wonder.
These puppies are ideally suited for field trialing. If you enjoy hunting, there are few dogs that can match a PrairieRose Gundog English Springer Spaniel in the field when chasing pheasants. If you are looking for a family companion, these sweet-tempered pups will capture your heart.
View PrairieRose's Litomysl Bakinaw (Kina) Pedigree here.
Blue Mountain's Quincy Boy (Quin) is a powerful bird finder with a big nose and a beautiful flush. Not only is he a biddable and talented hunting dog, he's comfortable spending time with his owners indoors.
Whether you're looking for a bird dog or a rabbit dog, any Quin.
Quin is of British Championship and American Championship lines. Check out his amazing pedigree.
Check out Quin's Pedigree yourself here.
Below is Kina's littermate Taz (they're nearly identical). He was high point Midwest puppy
and is well on his way to becoming an FC and AFC Champion.