English Springer Spaniel Breeders & English Cocker Spaniel Breeders – Premium Puppies and Started Dogs For Sale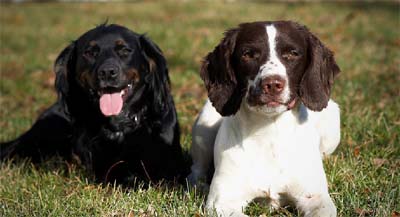 PrairieRose Gundogs is dedicated to the improvement of our hunting and Field Trial Spaniels. The dogs and puppies you see offered here are from top English Springer Spaniel breeders and Spaniel field trial bloodlines. We actively participate in field trials with Springer Spaniels that show tons of natural hunting ability and are easily trained.
We specialize in connecting you with premium English Springer Spaniel breeders dedicated to the improvement of our hunting spaniels. Most are avid field trialers or those who breed for field trialers. So you can be assured of top level breeding for Springer and English Cocker spaniels that hunt and do it well.
PrairieRose Gundogs (puppies now available-click HERE) present English Springer Spaniel & English Cocker Spaniel breeders:
When you are looking for the best English Springer Spaniel breeders make sure they are active in field trials. Those who judge and train their dogs regularly are the best equipped to spot great dogs to breed with as well as weed out those with inferior traits. When you spend a lifetime with your dog you want the best so ask about their participation in field trialing. If they give you excuses, you now know why. They are interested in their dogs, not necessarily in providing you with the best gundogs possible. Be sure to check out our owners group to see what they are saying: PrairieRose Gundogs – Milan Lynch's Buccleuchs Facebook Owners Group – Click Here.
Thank you for checking out our English Springer Spaniel breeders network. You will be glad you did.